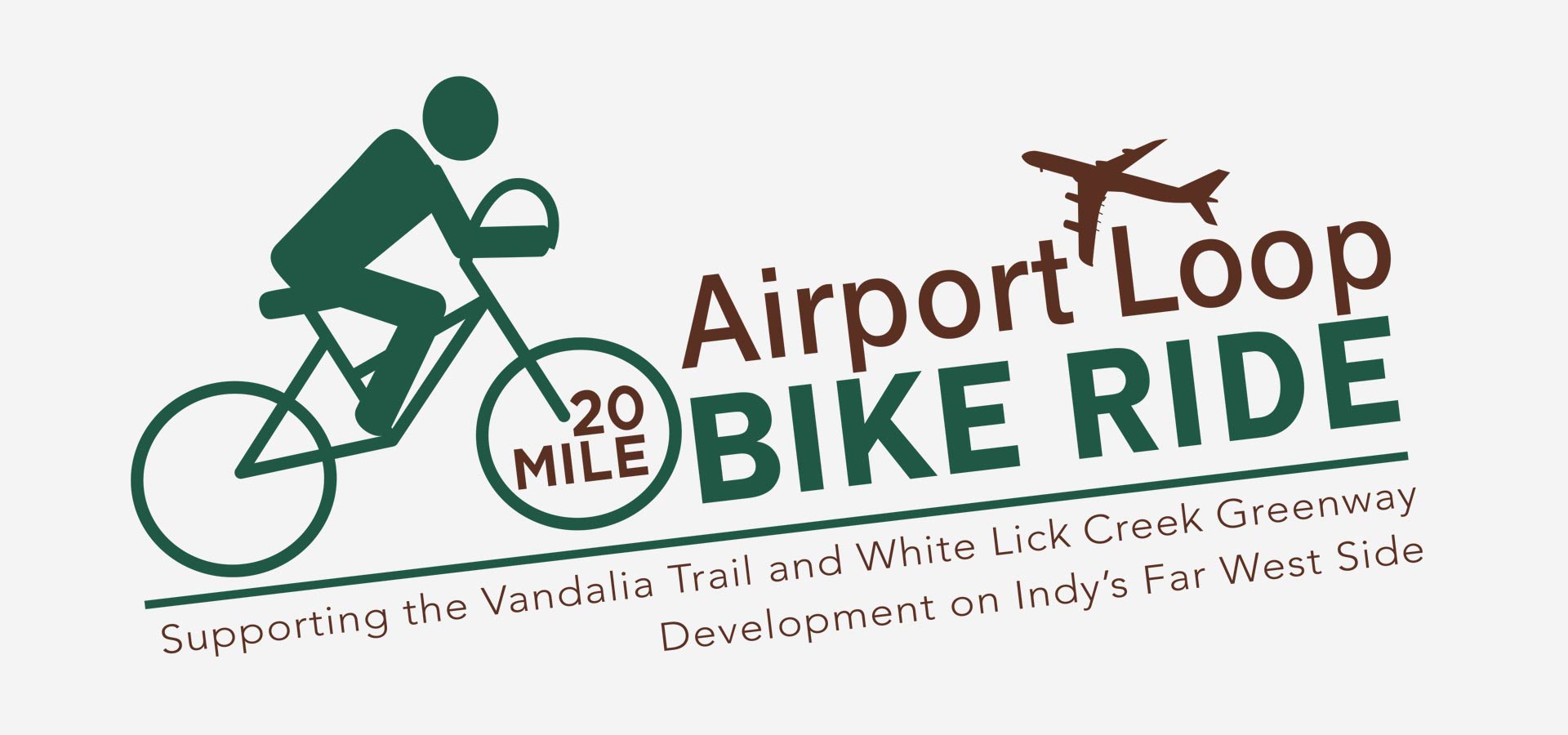 Join Indy Gateway on Oct. 3 for the annual Airport Fun Bike Ride to support the White Lick Creek Vandalia Trail Alliance! You can bike the 5, 10, or 20-mile routes. Even if you don't ride, you can support the trail and explore the abandoned Vandalia Railway Trestle stretching out over the White Lick Creek. Or you can walk/run along West Perimeter Road, imagining the White Lick Greenway meandering through the creek's tree line to the west.
Meet at Bridgeport Central Baptist Church, located at 9039 W Washington Street in Indianapolis. Tickets are required to participate. You can find full event details (including the loop map) and purchase a ticket on Eventbrite.
The mission of the White Lick Creek & Vandalia Trail Alliance, Inc. (WLCVTA) is to facilitate development and support for the Vandalia Trail, a multi-use, off-road trail for non-motorized travel, of the White Lick Creek Greenway for a quiet, more natural trail experience. Additionally, the organization is focused on the protection and conservation of the White Lick Creek and its woodlands for citizens to enjoy Indiana's natural environment. Both the Vandalia Trail and White Lick Creek Greenway are located on the West Side of Indianapolis.
The Vandalia Trail is a segment of the National Road Heritage Trail, a cross-state multi-use trail to span 160 miles, 30 communities, and years of Hoosier history, stretching from Terre Haute to Richmond.
The White Lick Creek Greenway is a 15-mile segment of the Indy Greenways Full Circle that follows the meandering East White Lick Creek on the extreme western edge of Marion County, connecting with four trail systems, three parks, and five neighborhoods, while passing under historic bridges and through restored natural habitat areas.
The proposed East White Lick Creek Conservation Area, an estimated 102 acres, is located inside the Indianapolis International Airport (IAA) property. Parcel-1 approximate boundary is north IAA property line, east West Perimeter Road, south Sterling Run, west IAA property line at an estimated 49 acres. Parcel-2 approximate boundary is north Sterling Run, east West Perimeter Road, south Tributary East White Lick Creek, west IAA property line at an estimated 53 acres.