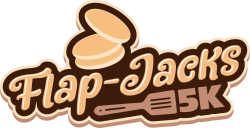 The 2022 Flap Jacks 5K Walk/Run is scheduled for Aug. 6, and advertising opportunities are now available for the 7th year of this community event! This spring, the event committee will begin its outreach, promoting it to the various neighborhood organizations and through the media and social media outlets.
Over the past seven years, the Flap Jacks 5K Walk/Run has raised funds to purchase land and support connectivity and expansion of the B&O Trail and the White Lick Creek & Vandalia Trail. As a part Indy Gateway's mission, we believe that westside residents deserve amenities, such as trails that improve their quality of life. Through this event, Indy Gateway continues to provide matching dollars of the B&O Trail's exciting Next Level Trail grant opportunities through the state of Indiana. We also continue to conduct scoping studies for trail development. The goal is to fill the gap through the Far West B&O Trail Association's expansion of the portion just inside Marion County (east from the Hendricks County) and to the Farley neighborhood, thereby connecting over Eagle Creek to Speedway Trails. Indy Gateway has also turned its focus to trails near the Bridgeport area on the far west side of Indianapolis. We're working to facilitate development and support for the Vandalia Trail and the White Lick Creek Greenway in Marion County.
Our event continues to grow, thanks in large part to our sponsors. Approximately 400 participants are expected in 2022! Please consider sponsoring our event this year. To maximize your marketing opportunity, email confirmation of your sponsorship level and artwork by our final deadline for printing and website inclusion: March 18.
If you have questions, please contact Connie Harris, Outreach Coordinator, at outreachcoordinator@indygateway.org.