Shelton Heights Park received its first "art intervention" recently in the form of fun caterpillars. The park was selected to receive this enjoyable artwork, thanks to a grant awarded to Keep Indianapolis Beautiful from Lilly Endowment, Inc.'s Strengthening Indianapolis Through Arts and Culture Innovation initiative. Together with the Arts Council of Indianapolis, the organization is creating public art experiences for both residents and visitors.
Artist Christina Hollering hopes that by "hiding" these native caterpillars in the trees, it will motivate both children and adults to look up and take a closer look into the natural world around them. The artwork could also provide a greater appreciation for native creatures that are overlooked, misunderstood or feared. Hollering says she finds that educating others about these unique creatures often inspires them to conduct research or, at the very least think, twice before "squishing" them.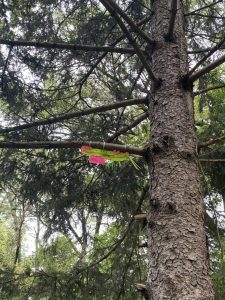 Indy Art & Seek will feature more than 100 new "art interventions" of engaging and accessible public art in all media along urban streets, as well as six large-scale installations in several of Keep Indianapolis Beautiful's new or legacy IPL Project GreenSpaces.
Hollering is a multidisciplinary artist living and working in Zionsville, Indiana. She graduated from Herron School of Art and Design in 2012 with a degree in painting. She currently works in paper cutting, printmaking and any other medium she finds necessary to express her artistic vision. Inspiration for her work comes from the natural sciences, hiking trips and backyard explorations with her children. Her current body of work illustrates the life cycles of insects native to Indiana, with an emphasis on pollinators and their host plants. Her hope is to educate, inspire and spark an interest in protecting and preserving the world around us, starting with our own backyards.
More artwork is schedule to be installed at Shelton Heights Park next year as part of another Indy Art & Seek project. An interactive map and mobile app will guide participants through the experience, revealing locations and spaces with new public art. Indy Art & Seek will encourage the community to see their surroundings in new ways, and inspire local artists to use existing conditions to create fun, thoughtful, whimsical or beautiful installations for people to find.