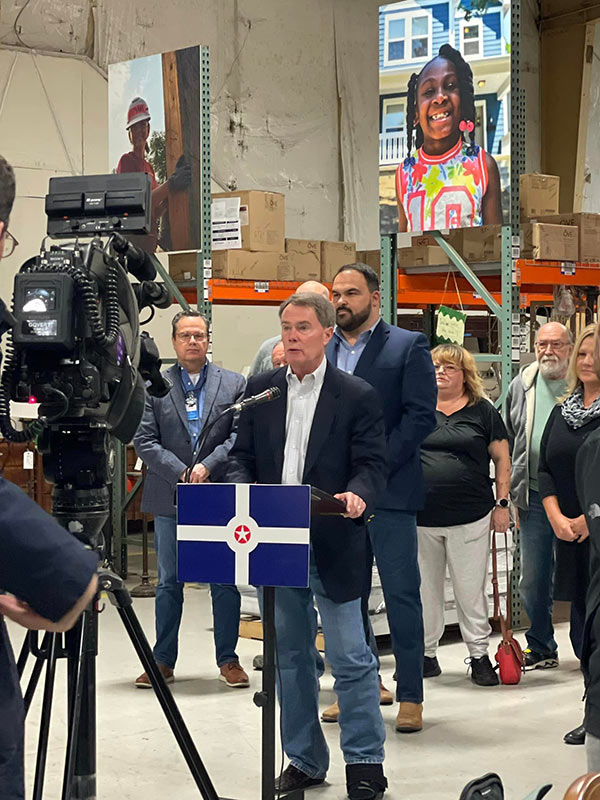 On Nov. 28, Indy Gateway board members and Westside leaders joined Mayor Joe Hogsett, Indianapolis Department of Public Works, and City–County Councilor Jared Evans, for the announcement of a $20 million investment in roadway and stormwater infrastructure improvements coming to West Washington Street, between Holt Road to Lynhurst Drive.
This investment will include new asphalt, stormwater upgrades and sidewalk improvements, as well as drainage infrastructure updates in the adjacent Fleming Gardens neighborhood on Indy's westside. The stormwater improvement project will focus on directing rainwater away from homes and help to reduce flooding. For nearly eight years, Indy Gateway has been advocating for funding for these long–needed infrastructure projects because it believes our businesses and taxpayers deserve these basic amenities in our neighborhoods. This announcement is yet another example of that neighbor–focused approach and one that Indy Gateway has been leading the way on.
This investment is an alternative to the $50 million in infrastructure that the Westside was hoping to receive through the construction of the Blue Line Bus Rapid Transit before the plans were altered due to increased costs and unfortunate legislative delays. While not providing for all the opportunities that would have been attained through transit–oriented development, it is great first step in transforming the corridor and improving our neighborhoods.