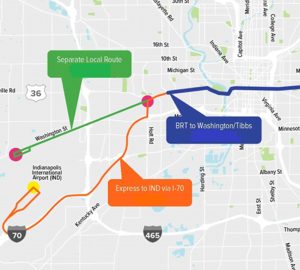 In the fall of 2022, IndyGo proposed a Segment 1 Modification. The idea was to shift Blue Line service off Washington Street west of Holt Road onto I–70, which would provide significant capital and operating cost savings. It also allowed the rest of the project, which had reached the point where ROW acquisition would be starting, to proceed. IndyGo shared that they did not make this suggestion lightly, as they know that people were counting on the service improvements, but feel that making this change has significant positive impacts.
Most importantly to some stakeholders, the modification does not preclude a separate project on Washington Street from happening to make improvements to road, drainage, pedestrian facilities, etc. This infrastructure is on target to still happen as a separately funded project by the city in the area from Holt Road to Lynhurst Avenue, and rapid transit can still be added to that segment in the future when land use and ridership catches up with the rest of corridor.
Given all the options that are on the table and the very real cost concerns with the current project, IndyGo is still very clear of its commitment to the West Washington Street corridor and plans to still provide a solution that shortens travel times, improves reliability and increases capacity, as well as improves ADA access to that service for this area. Further, IndyGo will provide an improved experience for passengers waiting for that service.
What isn't certain yet is the magnitude and scope of what IndyGo can afford or when they can afford it. Their goal is to get as close as they can to the original vision as soon as they can, but it is going to take a bit of time to get there.