Indy Gateway is pleased to announce that AeroDyn Engineering has awarded $30,000 toward Indy Gateway's initiatives, which include Affordable Housing, Quality of Life, Infrastructure, Economic Development, and Resources on the west side for Indianapolis.
Today owner David Lawrence will present to at 10:30am at AeroDyn corporate office located at 1919 S Girls School Road in Indianapolis.
Aerodyn Engineering, LLC was founded in February 2002, by its owner David Lawrence. It began in a 3,000 sq ft facility with only 5 employees. 3 of these employees are still with the company after 20 years. The contribution is in part of the company's 20th anniversary celebration in 2022.
Aerodyn started with its niche of applying instrumentation and completing field tests for many large OEM manufacturers.  Due to their extreme attention to detail, Aerodyn became well known in the Aerospace industry for its hard work and successful tests for places like GE, Rolls-Royce, and many other engine development leaders.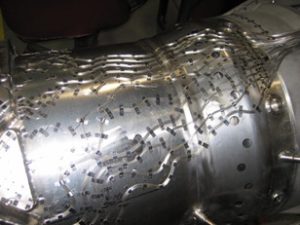 Aerodyn also became world known for their high-speed rotational slip rings. These ranged from sizes 36ct to the largest made at 744ct slip rings, completing the highest speeds run in the industry at 200,000 RPM. This latest rotational technology allowed for engine manufacturers to create tests on the engines that replicated the most complex engine issues during the research and development stage of production. This led in reduction of in-flight errors and improvement to the industry's engine development.
In 2007, Aerodyn moved to a 36,000 sq ft facility located by the Indianapolis Airport and began expanding its capabilities to include design engineering, manufacturing of components, and heavy-duty testing capabilities. It allowed Aerodyn to expand on its reputation to become the one stop shop for our leading industry experts. From here, Aerodyn continued to grow. Aerodyn prides itself on creating the first integral kiel heads for rake and probe testing which allowed for less risk of testing breakage and lead the industry to its new level of testing capabilities.
In 2010, Aerodyn joined up with Caterpillar to create the U.S.'s first gas turbine testing facility in Whitestown, IN. From high-speed compressor and turbine mapping tests to burst and containment testing, Aerodyn was able to play an integral hand in testing the latest Turbochargers you see in the world today.
Aerodyn has always led the efforts to continue to raise the ceiling on development testing, including manufacturing many of the complex hardware for the 6th Gen Fighter Engine for the United States Air Force. This included manufacturing of complex components, instrumentation, and testing of many parts of this engine. Featured in the Aviation week and Space Technology Magazine in 2021!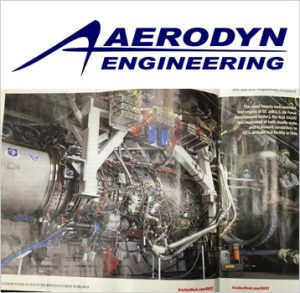 "Sixth generation fighter prototype engine on test stand. Most heavily instrumented engine in USAF history"
As owner, David Lawrence, said " This became everything he dreamed of when starting Aerodyn Engineering."
As the sky is the limit, Aerodyn continues to excel into every industry and leads the charge. Many projects in recent years hit the space industry, with next stop being part of the VIPER lunar rover to hit the moon!